In our SAAS SEO case study, you'll find a quick overview of what we achieved for one of our clients in a very competitive SAAS niche.
In a nutshell, we managed to get them from <100 organic searches to over 8,100 per month and growing.
Their PPC cost is $2-$10/click, which means that the new traffic is worth at least $16,000. And even if they told us to pull the plug today, their organic traffic would likely continue to grow and bring in traffic for years to come.
Backstory
About the client
The client offers a SAAS product in the email marketing vertical. Their product was better than most of what's already out there.
Their current customers find them through either word of mouth or via relevant conferences. Despite having an awesome product, the issue is (as always) getting the products in front of prospective buyers.
The problem
The niche they're in is super competitive. Similar SAAS products are very sticky, meaning that once a client has decided to use a particular product, they tend to stick with it for a long time.
This increases the lifetime value of each customer and, in turn, makes it very expensive to get in front of prospective buyers.
Also, many of our client's competitors are venture-backed startups, so they have more money to burn. Our client is a bootstrapped company, which means they need to be very diligent in investing their marketing dollars.
The client turned to us to help them grow their organic traffic and acquire customers at a lower price point. Their logic was that although SEO is a long-term game, it has a very high ROI.
Our plan of attack
When we started, the client had very few backlinks to their site (DR 2). Also, their organic traffic was under 100 per month, which mainly came from people who knew their brand and searched for it via Google.
Most sites ranking for the main terms had DRs of 70+, meaning that they had thousands of backlinks going to their websites.
For reference, one backlink costs around $200, so it would mean that we would need to build over 1000 backlinks to reach our main competitor's level of authority. That would cost at least $200,000 and certainly not what we would have recommended doing.
So we devised a different plan of attack, consisting of:
Doing extensive keyword research to find keywords that prospective buyers would search for, but have low competition.
Adding an ROI analysis to the keyword research helped us to determine how many links we would need to build to each page to get it to rank in the top 10.
Create the content, optimize it with SEO tools (we used SurferSEO), and get it live on the client's site.
See where the content lands without building any external links and then only build links to the pages that need them. A lot of the articles started ranking without needing any links at all.
Use different link-building strategies to build links to the homepage to improve the overall website authority and to give an indirect boost to all pages that we have live on the site.
Results overview

We increased their organic traffic by 80-times. Taking into account the level of competition in this niche and how few relevant keywords there are to target, we see this campaign as a massive success.


The campaign is still running and we are seeing continuous improvement in rankings and organic traffic.
The average paid advertising cost (PPC) is between $2-$10 in this niche. So even with $2, the value that has been created thus far translates to $16,000 per month. Not taking into account that organic traffic has a higher conversion rate compared to paid traffic in most cases.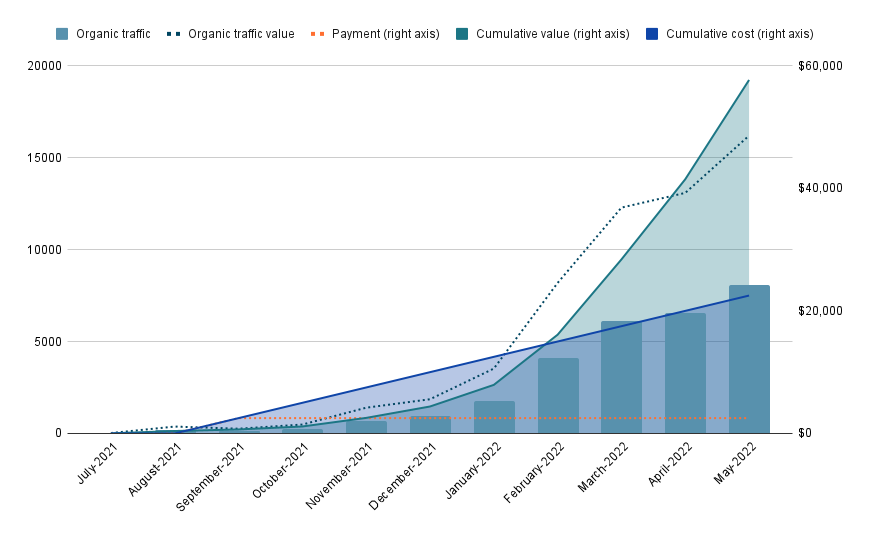 The graph above shows that the break-even point for the campaign was during month 5. After that, the cumulative value of SEO traffic started to grow exponentially and is still growing as we're constantly building on more content and links to further increase the traffic.
Even if the client were to stop working with us, the traffic is likely to grow further. However, let's do a small thought experiment to see what would likely happen if the client did want to stop the campaign.
If we are conservative and estimate that the traffic would start decreasing by 500 per month until the end of the year, the client would pay us 0 moving forward and everything else would remain the same, this is what the same value chart would look like: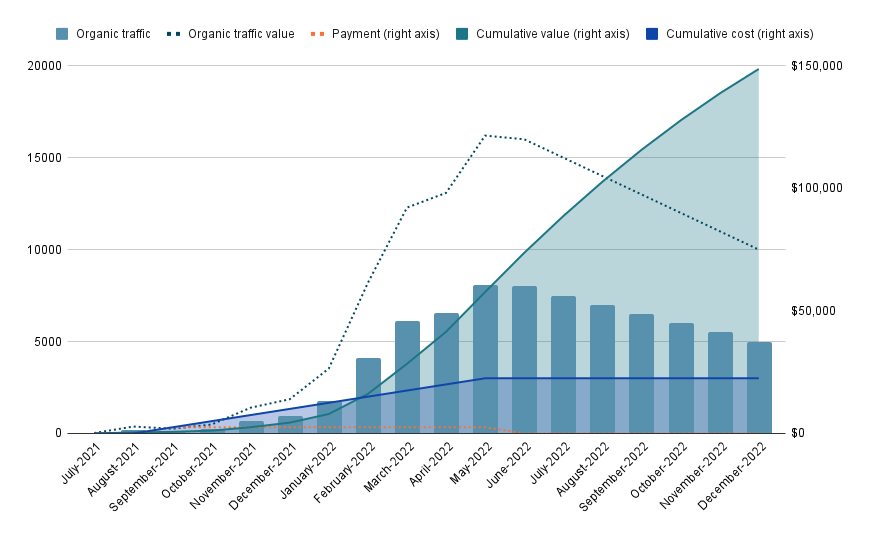 And in reality, each visitor is worth more than $2 to the client, so the real value is higher, but the point I've tried to make remains the same.
It goes without saying, but the client is very happy with the results and so are we.
What we did in specific
We offered the client our content marketing service, including building content and links (the bread and butter of SEO).
Lower-level overview of what has been done:
We found 80 relevant keywords to target with articles
We created 46 articles for their blog
We built 99 backlinks using different strategies
The strategies we used to build links for the client were mainly guest posts, link insertions and broken link building campaigns.
Future plans for the campaign
We will continue to do what is working well, meaning doing more keyword research, and building out more content and links to the articles that need them.
Some of the changes we are implementing are that we are now able to target higher-difficulty keywords that have higher search volumes and competition.
This means that for each article we would need to build at least 10 links, but if the potential traffic is good, we will focus our link-building efforts on that specific keyword to get into the top 5 of Google search.
The client has seen that SEO investment has been very profitable for them, so it makes sense for them to invest further in what has proven to work.
---
PS! If you're interested in increasing your profits and think that SEO is the right way to go, get in touch with us here or read more about the specific services we offer:
Thank you for reading and have a fantastic day!