Content marketing is the practice of creating content (blog or social media posts, videos, tweets) that attracts your target audience. They then engage with your content, gain value from it, build trust and rapport with your brand and eventually become your customers.
We offer blog post creation as a service. The blog articles we create have high odds of ranking in Google and bringing traffic to your site for years after publishing.
Why should you invest in content marketing?
Here are some stats from prominent research providers on this topic:
Why do we offer this service in the first place?
Because we want to help good companies get found by more clients online.
This might sound a bit cliché, and you might think that yea-yea, so does everyone. But how we differ is that we find out what people are actually searching for within your specific niche and then create content that targets those terms.
Your customers have specific problems or questions related to your industry.
And if you answer those questions with your content, you gain trust and potentially earn a customer right away. Or move them to take a smaller action like joining your newsletter or helping them get to recognize you as a brand.
A simple overview of our process
We find out what people are searching for = keyword research
We then analyze if the people that search for those keywords could be potential customers of your business.
If the answer is yes, we create the content and optimize it with the SurferSEO analysis tool to have the highest chances of ranking on Google without needing as many backlinks.
We add internal links to the content to further increase your chances of ranking for those terms.
You (or us if you want us to) then upload the content to the site.
The most important part of the puzzle is keyword research. It's a long-winded process, but the idea is to find keywords/article ideas that match the following:
terms that people are actually searching for,
people who search for those keywords are your potential customers,
your site has good odds of ranking for the topic.
A longer overview of the process
(skip, if not interested in the details)
#1 Keyword research and topic ideation
The first and most important part of the whole process is coming up with topics to write about. The success of the entire article depends on this.
If we write articles that we have no chance of ranking for, almost no one will find our articles and the effort of creating the content would be wasted. We would then join the 91% of articles that get no traffic from Google.
We don't want that to happen, so we put a lot of effort into keyword research.
EXAMPLE:
Let's give a simple example and say that you're an e-commerce store selling tea.
If we type in the main term "tea" into our keyword research tool of choice (which is Ahrefs), this is what we'll see:

The search term gets 1.1 million monthly searches so it would be awesome to rank for the term.
Now, if you look at the keyword difficulty, Ahrefs tells us it's "Super hard" to rank for the term. They base it on the fact that we'd need 569 backlinks from different websites to rank for this term.
If we estimate one decent backlink to cost around $300, we'd need to invest $170,000 into backlinks to rank on the first page for this term.
I know this is an extreme example of a keyword we should not target, but it's just here to show you why you should spend some time analyzing if a keyword is worth going after or not.
Based on the criteria I've outlined above, the keyword "tea" would perform as follows:
A term people are actually searching for – 1.1M people are searching for it, so definitely YES.
People searching for this are my potential customers – YES, it's likely that people Google-ing for this term also wants to buy some tea.
My site has the potential to rank for this term – NO, it's very unlikely that our site would be able to rank for this term.
So the term "tea" wouldn't meet our criteria and we wouldn't expect to gain organic traffic from Google if we were to write the article.
But,
if we dig a little deeper on Ahrefs and apply the following magic:
-> Look for terms that include tea
-> Filter for the maximum ranking difficulty of 10
-> Look for questions only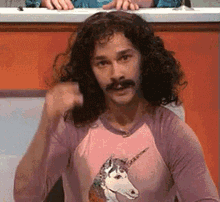 The result is 5000 results we can check to see if they meet our criteria: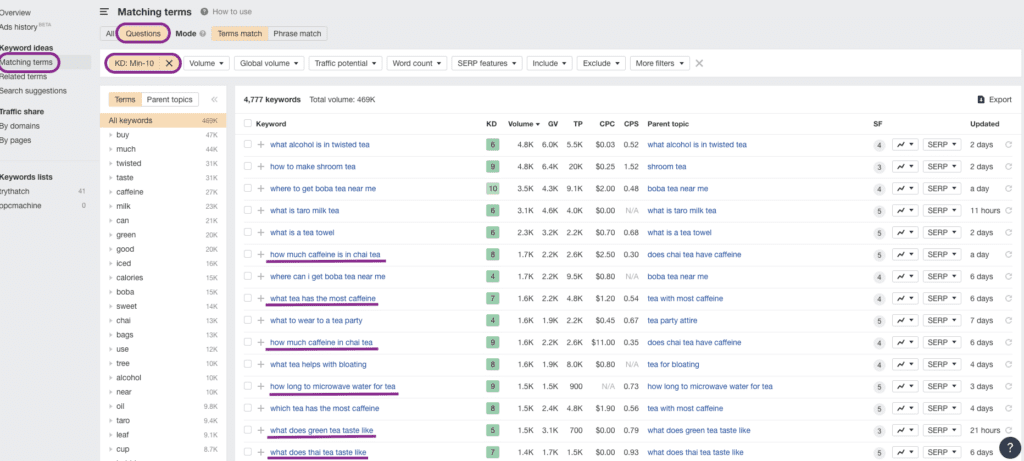 Now we get a list of some interesting keywords that Ahrefs considers easy to rank for (hence the green color).
how much caffeine is in chai tea (2600 monthly traffic potential, keyword difficulty of 8)
what tea has the most caffeine (4800 monthly traffic potential, keyword difficulty of 7)
how long to microwave water for tea (900 monthly traffic potential, keyword difficulty of 9)
And many, many more.
These keywords meet all three criteria on the surface, but we go through them one by one to make sure.
So let's take one keyword as an example:
"Which tea has the most caffeine"
People are searching for it – Yes, it has a traffic potential of 4,800 searches per month.
People searching for it are my potential customers – Yes. If we write an article on the topic, people will read it and get to know our brand. Within the article, we could recommend some specific tea products from our store and link directly to the product pages.
Our site has the potential to rank for the term. On the surface, with keyword difficulty levels below 10, almost all sites can rank for these terms with a good enough article and sometimes with the help of a few links.
To double-check point nr 3, we open up the first-page ranking view to see what types of sites are currently ranking to make sure that we could potentially beat them if we write an article on the topic.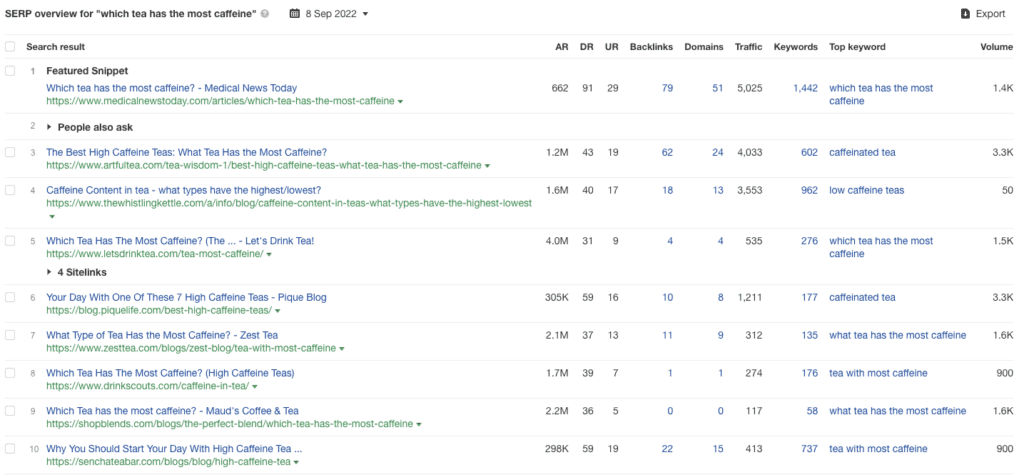 Here we check the DR of the sites, which shows how authoritative a site is in the eyes of Google. DR is Ahrefs' score that goes from 0 to 100, with 100 being the strongest score.
Ideally, what we want to see here is the following:
At least one website within the top 10 with a DR of below 40.
Not too many backlinks/domains pointing to the specific page of the websites. Anything between 0 to 5 is OK.
That there are at least a few other blog articles ranking, similar to what we would create.
In this example, I can see that the website in position #5 seems relatively weak and beatable, while they're getting 535 organic visitors from the US alone.
We take this one step further and check how good their backlinks are. The better the backlinks they have to the specific article, the harder it is to overtake their ranking position.

In this case, we see that they have 2 do-follow backlinks, but they are so weak (anything below DR 20 can be considered weak), that it's almost the same as them having no backlinks at all.
This is a good sign and we'd definitely want to target this keyword for our imaginary tea site.
We do this analysis until we have at least 2x more keywords/topic ideas than the amount of content we need to create.
We then share the keyword ideas with you to approve them.
#2 Content creation and optimization
Once you've approved the topic idea, we assign it to our editor, who will choose a writer from our team who can write the best possible content on the given topic.
The editor will create a SurferSEO-based document for the writer to ensure the article is SEO optimized and has the highest chance of ranking.
This is what the base document looks like for the writer: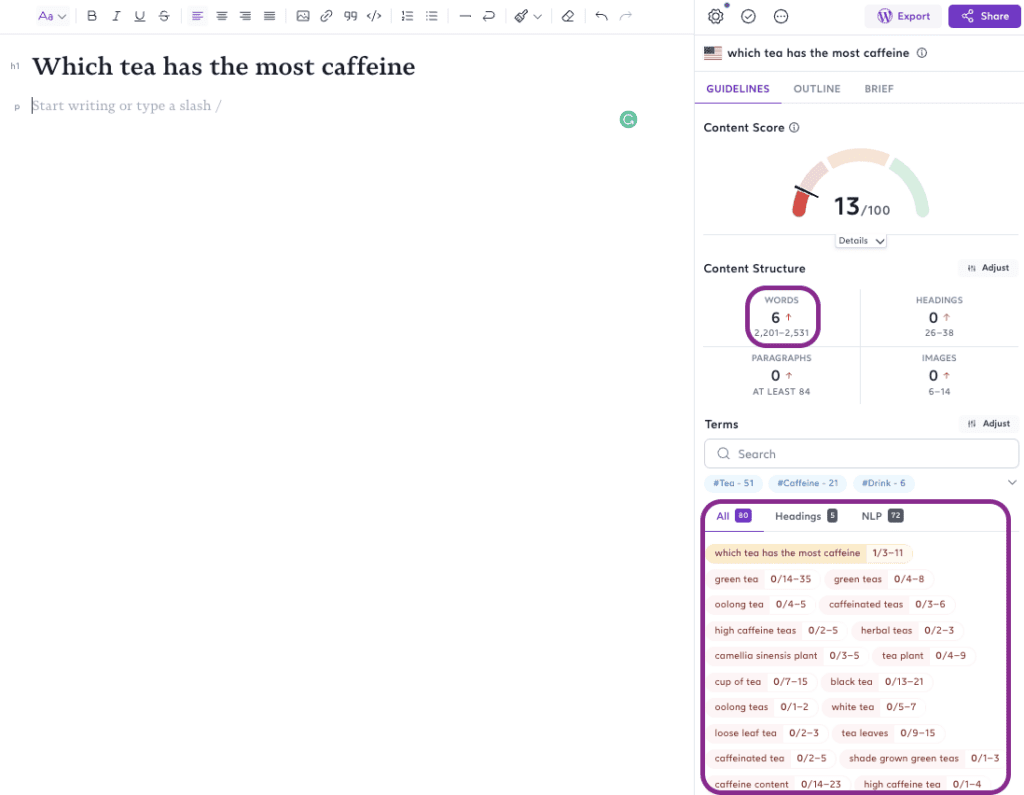 Surfer recommends words and phrases to use as well as the article's length.
This is based on a correlational analysis of the websites currently ranking at the top of Google, which particular terms are used by top rankers and how long their content is.
Process overview:
You will also get an overview of the content production pipeline so that you can understand where in the production process each piece of content currently is: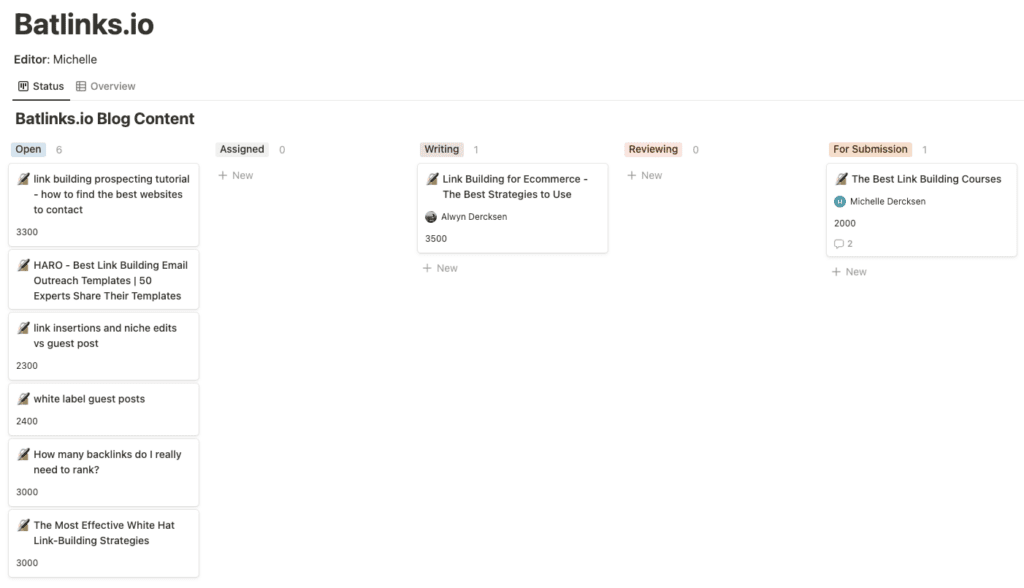 #3 Adding internal links
In order to increase the chances of the produced content ranking without needing any backlinks at all, we add internal links to previous articles and other relevant pages on your site.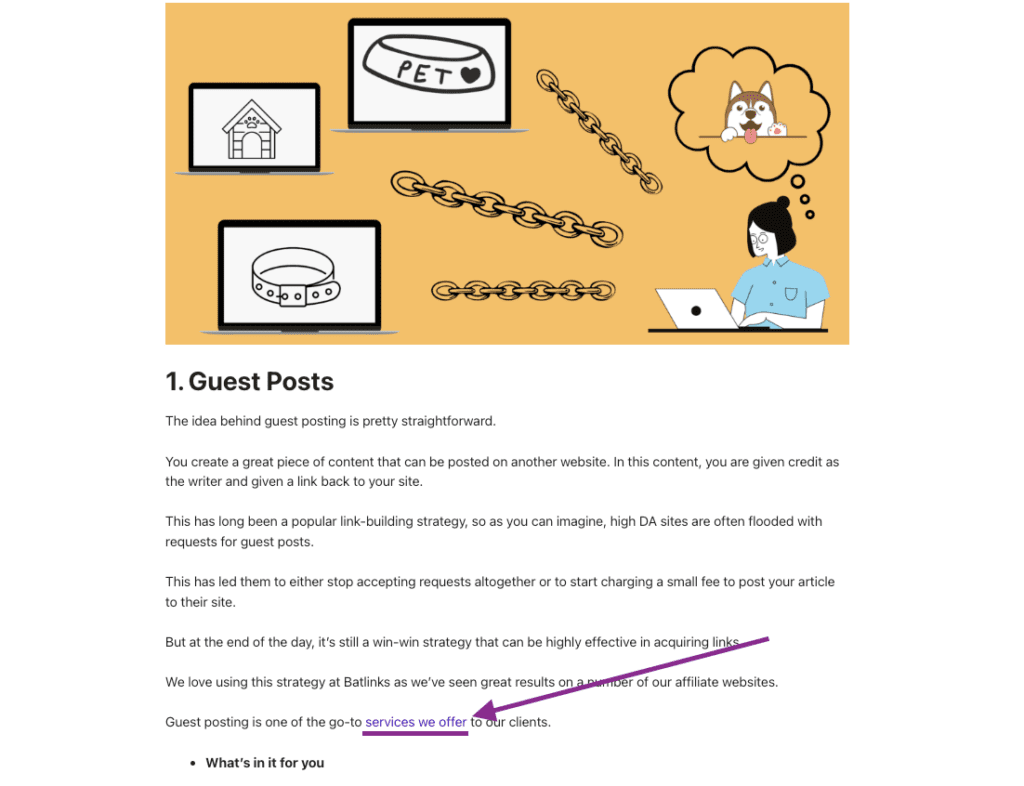 This helps to boost the rankings of the target pages and increase your website's crawl efficiency, which enables Google to find and rank your articles much faster.
#4 Adding relevant images
We use a combination of paid and free services to find (and sometimes create) relevant pictures to add more depth to the articles.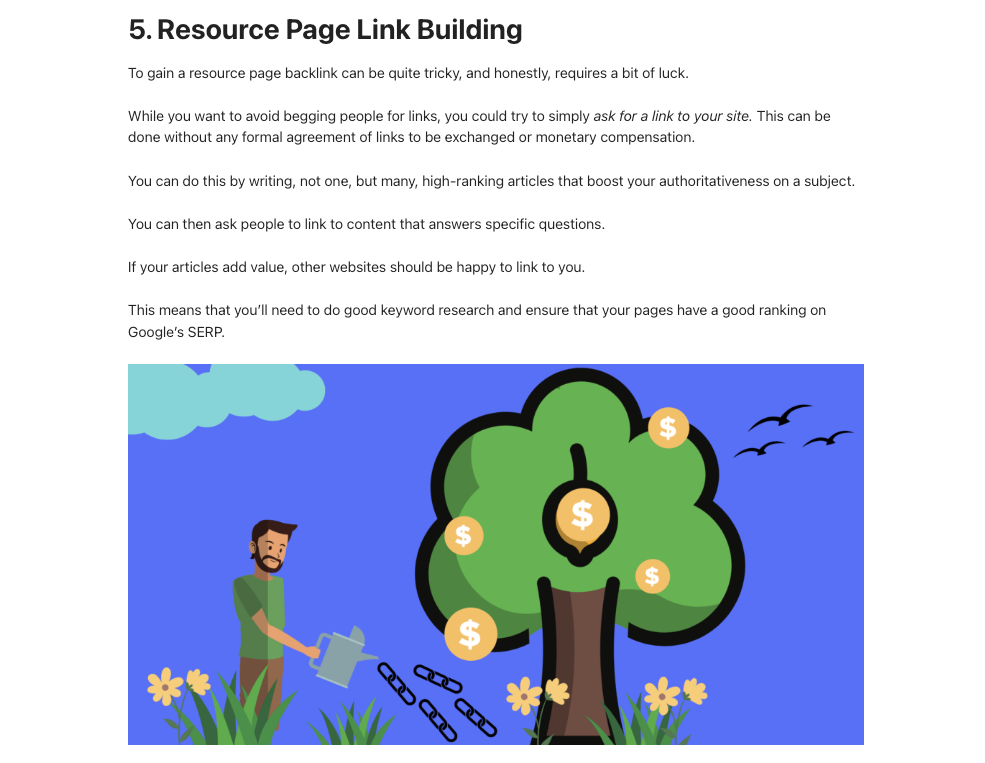 Our main image source is Canva Pro and Pexels. However, if required, we are willing to work with other vendors or with your internal design team.
#5 Uploading the content
If you would like us to upload the content to your site, we are capable of and willing to do so.
If you want to upload the content yourself, our final deliverable is a Google Doc file uploaded to our shared Google Drive folder.
#6 BONUS: Monitoring progress and making improvements
If we have been working together for at least 3 months, we will start monitoring the content for you to understand how the content is doing. We will also provide a free ranking and link gap analysis to determine if, and how many, links or additional sections/words the content needs to rank higher.
What makes our content marketing strategy so special?
Did you know that only 9% of pages online get organic traffic? Source
And most of the 9% that do get traffic are large websites like Wikipedia, Huffington Post and Forbes.
It is really hard for smaller sites to get organic search traffic, which is why most sites only get very little traffic and most of it is coming from people that already know them and search for their brand name.
What I'm trying to get across is that organic traffic really is hard to get, but through our process, we have been able to consistently get organic traffic to our clients' websites.
So the process does work and each part of the process is there for a reason.
The key things that make our process special are:
1. Doing really good keyword research
2. Using SurferSEO
3. Adding internal links
4. Writing quality articles
Pricing
Simple, $100 for 1,000 words.
Terms:
The minimum order is 10,000 words. Your first order has no minimum word count, so you can test us out.
The average article length is 2,000 words, we base this on Surfer's recommendation based on what's currently ranking on Google. However, if you want to give us a strict number of words per article, that's also fine.
The price includes the following:
->keyword research and coming up with a relevant article idea,
->content writing,
->relevant images added to the article,
->internal links added to the article,
->uploading of the article, if you want us to.
Some of our existing clients' results
Here are some of the results we've achieved for our existing clients.
PS! These traffic charts are taken from ahrefs, which usually understates the real numbers. However, we did also build links for some of those clients.
PPS! Most of the campaigns haven't seen the full effects yet as content takes 3-6 months to age and reach its' full potential. In the case of new sites, the lag period is usually 6-9 months.
#1 SAAS
Specific Niche Difficulty: high to very high
Target country: USA and international

#2 Accounting
Specific Niche Difficulty: low to medium
Target country: USA and international

#3 SAAS
Specific Niche Difficulty: high, very high
Target country: USA and international

#4 E-commerce
Specific Niche Difficulty: low to medium
Target country: USA and international

#5 E-commerce
Specific Niche Difficulty: medium
Target country: USA and international

Again, I want to emphasize that most of the campaigns are relatively new as it's a new service of ours, so we can't yet see the full effect of the campaigns that are running in the images above.
Apply to work with us
As we try to offer a high-quality service, we can only take on a limited number of clients.
If you are interested to work with us, please fill in the form linked here and we'll be in touch with you in 24 hours.