Link Insertions - Manual Outreach Service
A personal story about link insertions
When I started building websites, I knew I needed to find a low-cost way to bring in traffic if I would make any sales from the content I was putting out to the world.
Without traffic, it's as if the website didn't exist.
I would have been the only actual visitor showing up on my Google Analytics reports :).
At some point, I discovered that SEO could be the magic bullet for getting traffic AND that this traffic could be consistent.
Meaning that it won't go away if you stop doing SEO. On top of that, I saw a lot of experts claiming that SEO can have a massive ROI on the investment if only I had the persistence to see it through.
So I started researching what I needed to do to "SEO" my site and articles to get actual traffic from Google.
Long story short, the formula seemed to be content + links = organic traffic.
Now, I already knew how to build content.
But I tweaked my articles and optimized them to rank higher. That was all relatively easy.
Links seemed to be the hard part. I found an endless amount of articles that offered hundreds of different link-building strategies.
All this information left me feeling overwhelmed. Plus, being a massive introvert, the idea of sending emails to real people to try and build links seemed scary.
I didn't want to do that, so I figured link building wasn't for me.
Six months later, I had gone from 0 organic visitors to 50 per month. I started to lose faith.
I'm a persistent person, but this was too much for me. The results did not justify the effort.
But instead of quitting, I decided to take one last stab at it and try out link building.
My idea was to try and find the most straightforward link-building strategy that would work.
This is how I stumbled upon link insertions. This seemed to be the most logical of the possible strategies.
It appeared to be a way to build links in a win-win manner.
I would get a link, and the webmaster who gave me the link receives a small fee for the inclusion.
Most website owners struggle to make money, so doing this type of advertisement can be a good way for them to earn extra income, as long as they have real websites with actual traffic in the same niche I want to rank in.
But this is all easily verifiable with Ahrefs, which I already used.
On top of that, the links would come from pages already indexed on Google.
I read that many guest posts won't get indexed, so you might invest a lot of time and money to build the guest post, but if it didn't get indexed, it would all be for nothing.
With link insertions, you can verify the pages before asking for a link.
Anyways, I started doing this type of link building and received a good amount of quality links, which pushed my organic traffic from 50 to 500, then to 1,000 -> 10,000 and finally to over 30,000 organic visitors per month.
This all happened in 2019-2020, and link insertions are still my #1 strategy to build links.
Yes, I do use other strategies like guest posts, HARO, broken link building, calculators, and resource pages.
Still, link insertions are 70% of where links to my money or commercial pages come from, and I will continue to use them as my primary source of links for my own projects.
After doing link insertions for my own sites, I've learned from my mistakes and continue to optimize the process as I keep learning.
This has given me enough confidence to offer this as a service to websites where I see that link insertions have a high chance of yielding significant ROI.
For this reason, we work only with websites we are confident we can get links for.  Apply here & let's see if we'll be a good fit for you.
So What Are Link Insertions?
Link insertions are links that are added to existing articles on relevant websites.
We build link insertions through manual e-mail outreach to webmasters who have content and traffic that is relevant to your site. 
These articles have been around for a while so they are indexed by Google and some have traffic and links pointed at them. This makes them more powerful than your regular guest post links. 
What's so Special About Them?
If you do them right, you'll get the following:
Link insertions = 
-> higher rankings for your target pages
-> more organic traffic as a result of the improved rankings
-> more sales
-> more profit
-> Happy boss (or wife/husband/partner if you're self-employed).
But in all seriousness, here are the technical benefits:
Indexation – Unlike guest posts, you don't need to worry about the links getting indexed. 
Potential traffic and links – Also, as mentioned above, some of the articles have traffic and/or links pointing to them, making these links even more powerful. 
Speed – Insertion links don't take long to build once our outreach campaigns are running. No need to go back and forth with the webmaster regarding the content production process. 
No content needed – We don't need to create an article to get a link. 
Cost – These links are cheaper due to all of the above. 
1 link
> No Private Blog Networks
10 links/month
> No Private Blog Networks
10 links - once off
> No Private Blog Networks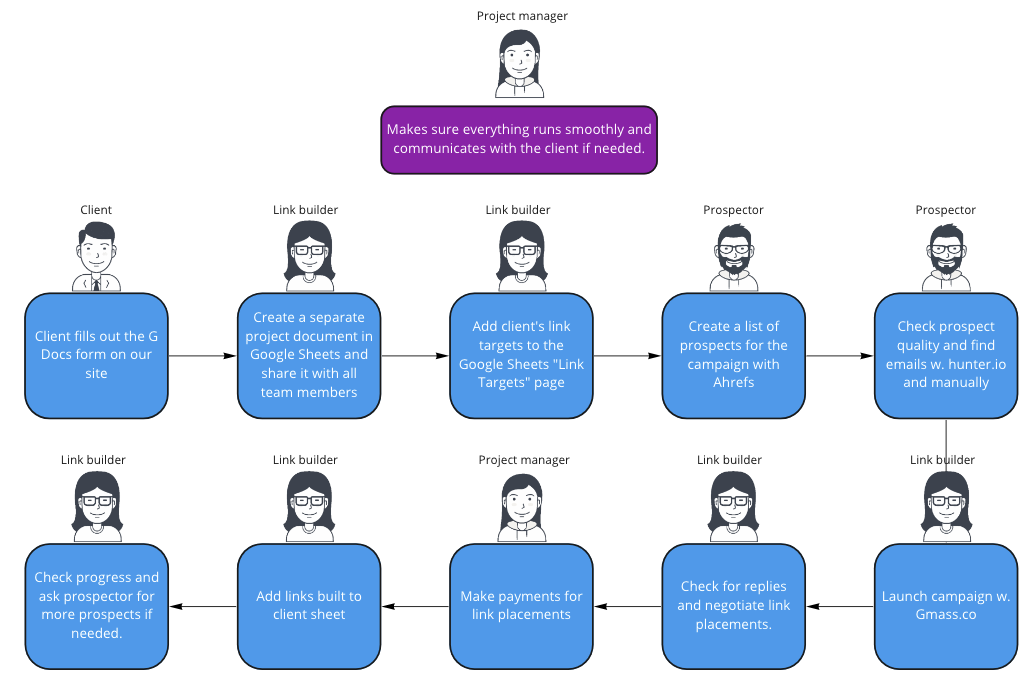 Some of the early successes we've seen with our new clients' websites: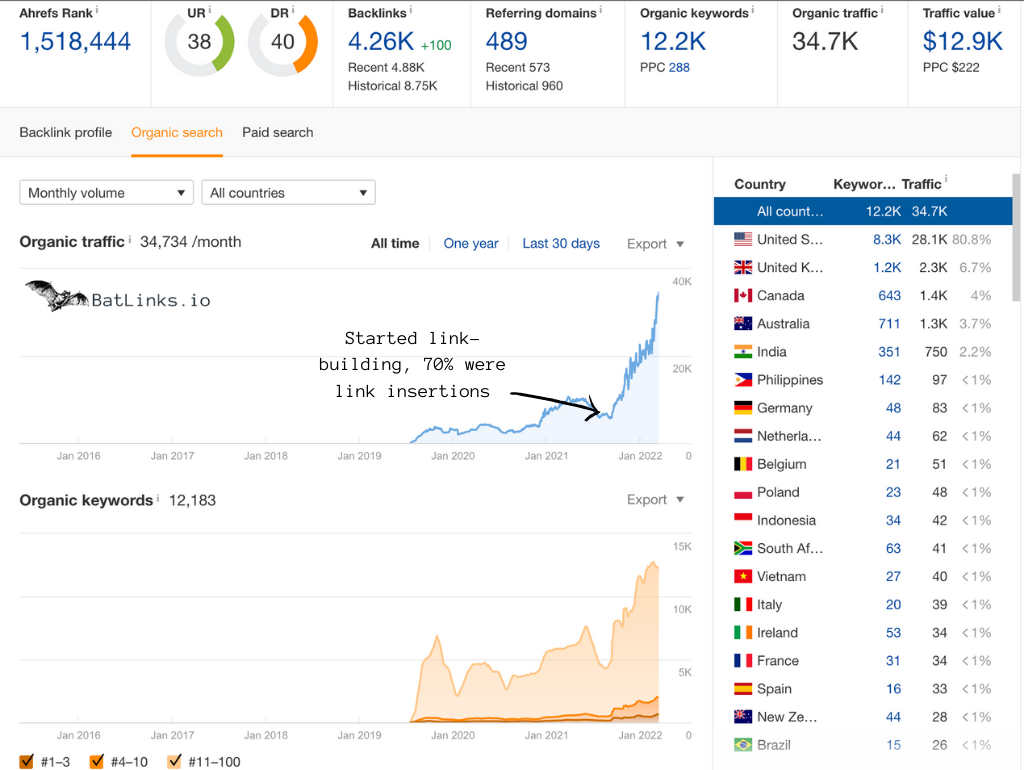 If you're interested in the service, please fill in this brief survey to apply. It will only take 2 minutes to fill in and helps us to qualify if we're actually able to add value to you. 
We only want to work with companies and websites where we see that our service will add value and give a significant return on your investment.
We don't want to waste your time, which is why we have implemented the brief application step. 
Thank you and have an awesome day!