Looking to expand and diversify your link profile by using a neat new link-building strategy? HARO strategy isn't really new, it's just that most people that aren't SEO nerds haven't heard of it before.
Why invest your time and (potentially) money into researching another strategy to get links?
The main reason is that this form of link-building can yield high DR and authoritative links at a reasonable cost.
We've managed to land our clients links from Forbes (DR 93), msn.com (DR 92), NYPost.com (DR 91). While these are rare, they do happen.
Our average DR for these kinds of links is over 50. They're as white hat as it gets and cost $290/link.
JUMP TO:
OUR PRICING
LINK SAMPLES
So What is This HARO Link Building Strategy Anyways?
The strategy works through a website called helpareporter.com (this is where the abbreviation HARO comes from).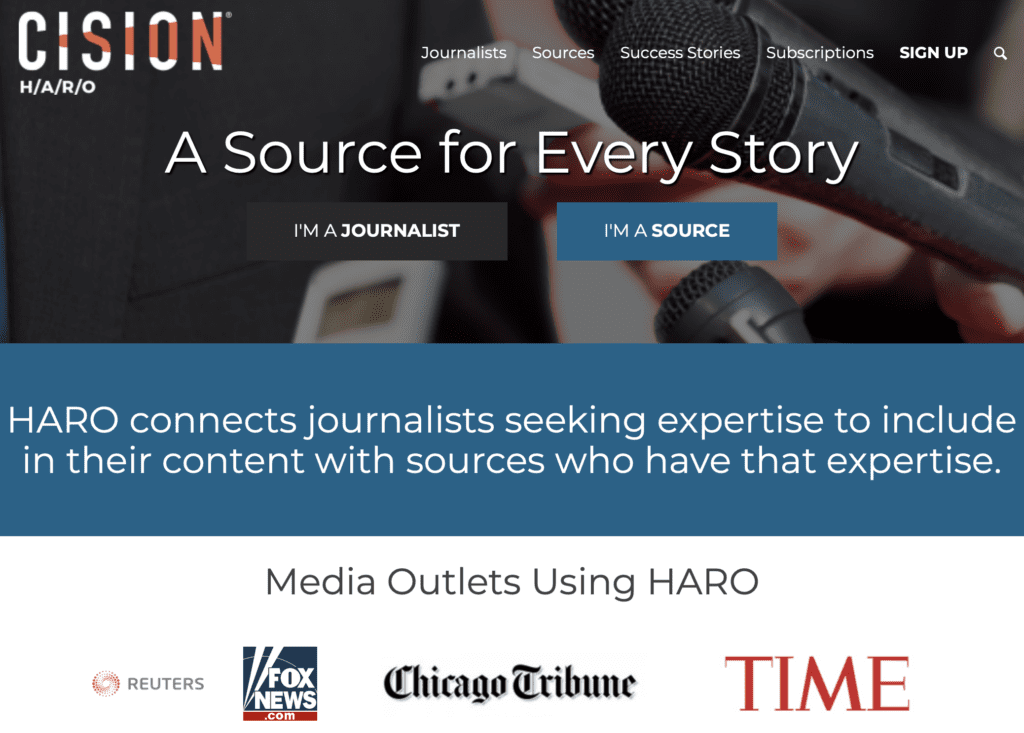 helpareporter.com homepage
The website brings together journalists that are looking for sources for their stories/articles and industry experts who can respond to queries in hopes of getting featured in journalists' articles.
How Does it Work?
If you want to become a source, you need to sign up as one. You then choose the topics you're interested in or know something about and you'll start to receive a list of queries 3 times per day.

The queries themselves look like this: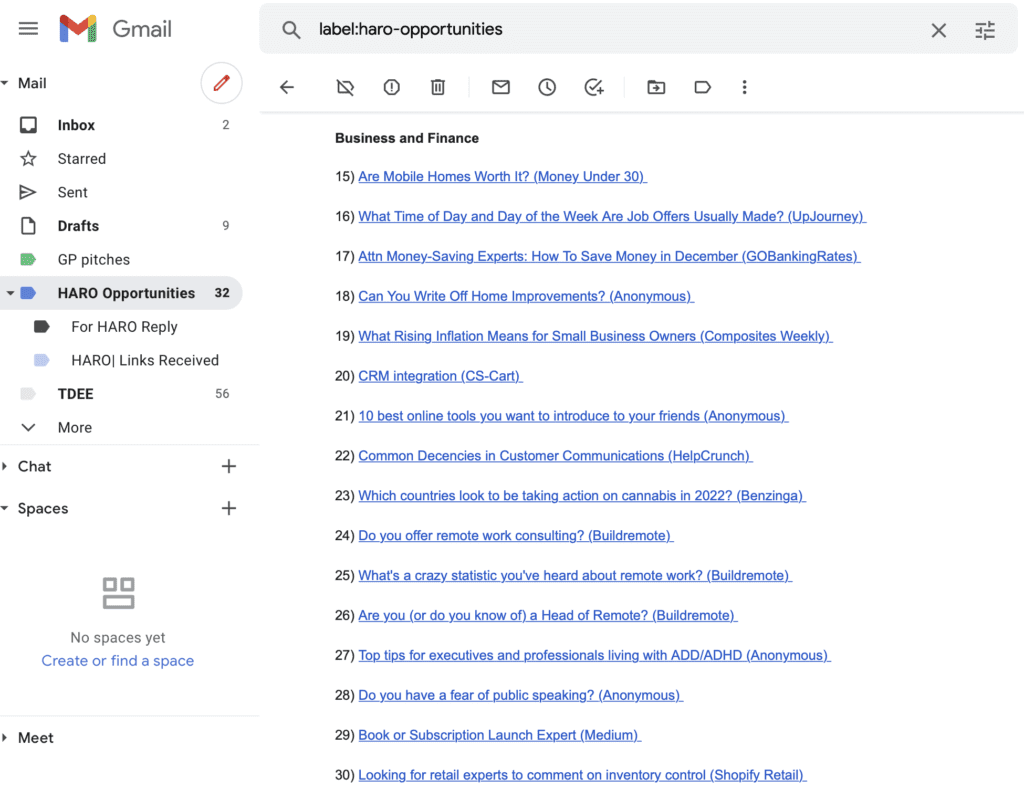 Is that all there is to it?
I'm glad you asked 🙂
The devil is in the details. We've been doing this strategy for over 4 years and our current conversion rate ranges from 0.5% to 6%. Conversion rate means that how many links we're getting is divided by how many pitches we've sent.
The success rate depends on the following:
the uniqueness of your answer,
how your website looks – yes, it does matter,
how do you or your company fit as a resource,
how fast you're responding – the quicker, the higher your odds of being included,
How do We Offer HARO Link Building as a Service?
We will send over a brief questionnaire that will help us to get to know your company in more detail.
If you don't have an about-us page or a specific persona set up for the company, we will create one for you.
We ask about where you're operating from, the size and characteristics of your team, your vision, mission and a few other things.
This information will help our creative writers to answer as someone from your company.
This is what our process looks like:
We get to know or create a persona for your brand. This would be the person that answers journalists' pitches. If you already have a person, we can respond as – great. If not, we'll create one. When creating the persona, we'll also create a story behind the person that aligns with your brand and what you're already sharing.
We'll create a separate email account and design a professional signature for the persona.
We'll start to monitor queries and respond to relevant pitches.
We'll create a Google spreadsheet where we'll record the queries that our writer has answered to and also mark down all the links earned.
Why Do We Recommend These Kinds of Links?
#1 They are hard to get and thus valuable. In link building, the general rule of thumb is that the harder it is to get a link, the more valuable it is. HARO links are really hard to get and will give you a competitive advantage.
If a competitor would look at your link profile and see these kinds of links, they will have a very hard time trying to replicate these.
#2 They have high DR. These links come from real websites that have above-average authority/domain rating. As said above, the average DR for the links we've received has been 50+, with some of the best links being DR 90+.
#3 Really good value for money. If you would try to buy these kinds of links from link vendors, you'd likely have to pay $500+ per link, and you'd still likely be getting links from link farms.
#4 They will increase your domain rating. These kinds of backlinks will increase your overall domain authority, which in turn will help all your articles rank higher. We've managed to achieve DR 40 from only doing HARO alone on our own affiliate sites.
#5 Link profile diversification. It's likely that you're already doing a lot of different link-building strategies. This might come with the risk of looking too unnatural. Having different kinds of links from different sources and targeting different pages on your site will help to diversify your link profile.
What are the Negatives?
#1 It takes some time to get these links. On average, it takes 4-8 weeks for the articles to go live after sending our pitches.
#2 Hard to predict how many we'll get per month. It's difficult to forecast how many links we'll get per month. It depends on how many relevant queries there were and how many other pitches the journalists got during that month. HARO works best as a supplementary link-building strategy to increase your overall authority.
#3 Some links are nofollow. Luckily, you won't have to pay for these kinds of links. We believe that they are still valuable if they come from high-authority sites, but we won't charge for these kinds of links.
Who Should Consider Using This Strategy?
Everyone that is interested in ranking higher on Google. But who would benefit the most is someone that has a long-term plan with their site.
If you're looking to grow the overall authority of the site gradually and get links that the vast majority of your competitors won't be able to get.
Having a good amount of high authority links will help to protect your rankings from competitors.
Also, you'll be better able to rank for long-tail keywords without the need to build links to them. So if you have a lot of content that you don't really want to spend money building links to, this strategy will help you achieve that.
Examples of Links Built
PS! If you'd like to get specific link examples of the links we've built for our clients, please request them through the form below:
Pricing
We charge $290 per successful link received.
PS! For link samples, check this page.
Also, as this is a specialized service, we only accept chosen clients.
If you're interested, please fill up this 1-minute survey, and we'll get back to you ASAP.
Our terms and conditions for HARO link-building service:
We only charge for links that are DR 30 or higher.
We only charge for links that are do-follow. You will receive no-follow links as well, but we won't charge for those.
The minimum order is 4 links, we ask for a prepayment per every two links.