PS! Due to client demand and the effectiveness of the strategy, we now also offer 3-way link exchange as a service. Jump to pricing, if you're interested in this.
What is a Standard, Reciprocal Link Exchange?
A link exchange is the simple practice of two websites linking to one another, boosting each other's ranking power.
It's an "I scratch your back, you scratch mine" type of practice that does work. However, because it does work, Google has taken steps against it and said that they do not like this practice.
This, by itself, is proof that it does work. Why would Google worry about people doing direct link swapping if it doesn't work? They would not.
But because it does help in aiding with rankings, it can be overused to manipulate rankings in a way where by using this single technique will give you a significant boost in rankings.
Also, it's especially effective when you are asking the other website to link to a very specific URL on your site that you want to boost.
Does Google Penalize Link Exchanges?
Google has listed direct link exchanges as something they consider link schemes and spam in their Spam Policies. This may lead to a manual action, meaning that your website will not be found on Google search at all.
However, Google has included the word "excessive". This means that some link exchanges are OK, but if you do them too much, you might be in trouble.
What is a 3 Way Link Exchange?
A 3-way link exchange is when three different sites link to one another in a way where there is no reciprocal linking between two of the three sites.
If the above sentence didn't make sense, here's a quick drawing of what I mean: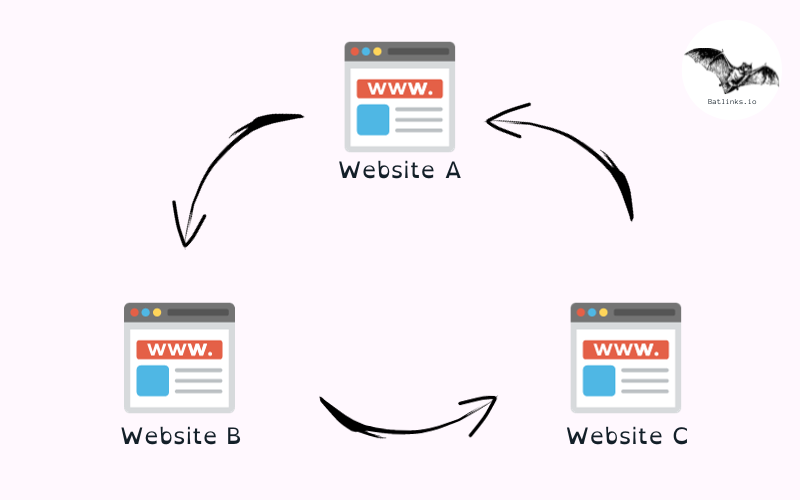 The way a 3 way link exchange works is the following:
website A links to website B,
website B links to website C,
website C links to website A.
So, none of the websites link back to the site that they themselves got a link from, but all websites do get a link from someone else.
3 Way Link Exchange vs Direct Link Exchange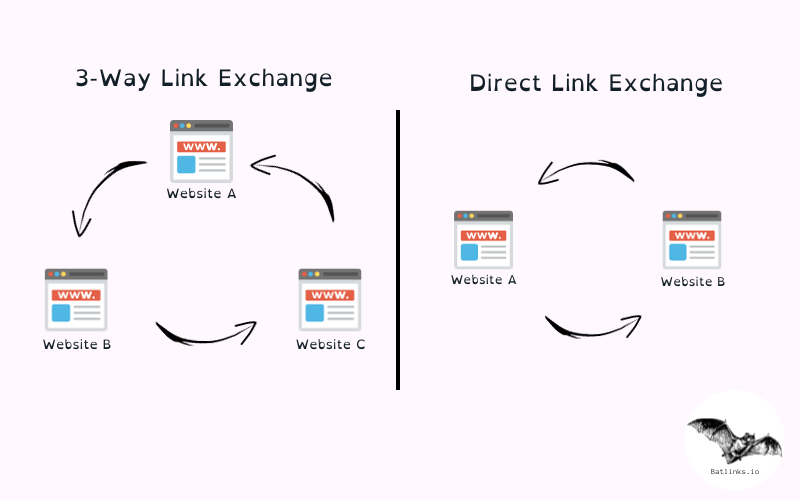 Obviously, 3 way link exchanges are more work. You would need to mediate the links and agree with an additional website.
All 3 webmasters need to be OK with the sites that they would get links from. You need to mediate the specific link placements and generally spend more time building out the links.
However, the benefit is that you are not directly linking back and forth with a single website. It's much harder for Google and other search engines to know if the 3 way link exchange was intentional or not, even if you've done a lot of them.
Reciprocal link exchanges do happen naturally as well.
It's normal that Businessinsider links to Marketwatch and Marketwatch links back to Businessinsider.
So, I'm guessing that Google has calculated a percentage of total links that is natural for any website to have from sites that they are also linking to.
Let's say that this percentage is 10%. Now, if you have 30%, that might stick out and trigger an alarm in Google's systems, causing them to assign a person to review your link profile manually.
This might lead to you getting a manual penalty.
Now, 3 way link exchanges are also things that happen naturally. Because there is a third site involved in the process, it will exponentially include the likelihood of any of the three websites linking to one another.
Meaning that the probable odds of a 3-way link exchange happening naturally are much, much higher.
Do 3-Way Link Exchanges Work?
Yes, they do.
Google's algorithm is strongly based on backlinks. Three-way link exchanges, also known as ABC link exchanges, are just another strategy to get you more backlinks.
Also, instead of spreading the links you get across your site, you could direct them to a few specific pages, making the links especially effective.
We've used this strategy to build links for many of our clients, and these types of links have been just as effective as guest posts or link insertions.
Why This is a Good Link-Building Strategy?
Three-way link exchanges can get you links that are hard to get otherwise.
It's rather difficult to convince real businesses to give links to you.
I mean, why would a real business want to take the time out of their day to add a link into one of their existing pages or go through the trouble of spending time negotiating topics, reviewing the guest article that you send them and uploading the article?
This isn't their core business and more often than not, they simply don't want to bother as they don't see value in the exchange.
However, if you offer them a link exchange, they might be much more interested. This is because, they will then see this as an equal exchange.
They get a link, boosting one of their pages and they link to you, boosting one of your pages. It's an obvious win-win.

So, the short answer is that 3-way link exchanges will get you links that are otherwise very hard or almost impossible to get.
Can Google Detect 3-Way Link Exchanges?
Google has a lot of computing power, so yes they could potentially detect these kinds of links, if they wanted to.
However, as I've indicated above, it's very hard for Google to know if you built them on purpose, trying to increase your rankings or if the 3-way link happened naturally.
So, if we use common sense, I'd say that as long as you also have links from other sources, the odds of getting a manual penalty are no bigger than using any other link strategies.
How Do We Build 3-Way Link Exchange Links?
Our process is rather straightforward.
1. We find a list of relevant sites in your niche that we know to accept guest articles from outside authors – "Sites accepting guest posts" in the drawing below.
2. We create a list of around 1000 prospective websites from whom we want to gain links – "Website C" in the drawing below.
3. We write the guest articles and arrange the links between all sites without you having to link out to anyone.
So, instead of you having to link out to another website, the value exchange is completed by us creating a guest article. It's still a win-win-win, but you won't have to "leak your link equity", while you are gaining a link.
Here's a visual overview of the process: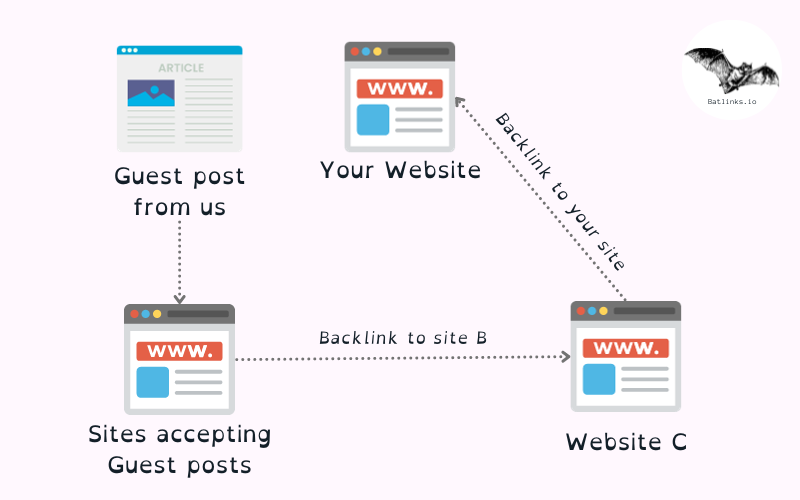 If you are thinking – why go through all this trouble if we could simply get you links from the sites accepting guest posts?
That's a good question!
The number of high-quality sites that do accept guest posts is limited. By doing a 3 way link exchange instead, you will be able to open up a pool of websites that would otherwise never link out to you or any of your competitors. This will give you a competitive advantage.
Our Pricing
As higher-quality links are much harder to achieve, the pricing depends on the DR and the quality metrics of the websites that you'd want to gain links from.
Quality lvl 1
Quality links with good impact.
---
DR 20-50
Traffic over 1,000+
Traffic value $500+
USA traffic mainly
The website and/or the article are relevant to your website.
Quality lvl 2
High-quality links with higher impact.
---
DR 40-60
Traffic over 1,000+
Traffic value $500+
USA traffic mainly
Gets organic traffic within the same niche as your site.
Higher quality and harder to get a link from.
Quality lvl 3
The highest quality links with the most impact.
---
DR 50-90
Traffic over 1,000+
Traffic value $500+
USA traffic mainly
Gets organic traffic within the same niche as your site.
Very difficult to get a link from.
Higher average DR and organic traffic.
PS! For link samples, check this page.
PPS! Some important things to note:
-The minimum order size is 3 links.
-You get to approve/disapprove all sites before they go live.
-We only charge for do-follow links.
-We replace all links if they get removed within 12 months of building them.
-The cost of the guest post is included in the price.
PPPS! If you opt for a monthly link-building service, you will get the following added benefits:
-Free link gap analysis, where we analyze how many links you need to rank with a page.
-Anchor text optimization, where we use industry best practices to optimize your anchor texts.
-Result tracking and reporting, where we send you monthly and ad-hoc reports on how your keywords are ranking and how much traffic you are getting to your target pages.
-Additional easy-win SEO suggestions from our entire team, where we will let you know if we see any low-hanging fruit opportunities that you should implement.
If you're interested, please fill out this form and we will get in touch with you if we find that we are a good fit for each other.
NB! We are currently only able to handle a small number of clients, so we apologize in advance if we come back with a negative answer. You will be added to our waiting list, and we will get in touch as soon as we have more capacity.