I'd like to share a case study on one of our clients in the accounting niche.
Even though they are in a super competitive niche, Accounting SAAS, we were able to grow their organic traffic by 403%. This is a fantastic result, especially considering the difficulty of the niche itself.
PS! Here's another SAAS SEO case study where we increased the client's organic traffic by 8000%.
The growth has only just started and we're still working on the campaign, which is why we expect even more significant growth in the near future.
All of this was achieved by simply focusing on SEO basics – Building quality content and meaningful links.
The client ordered our content marketing service and guest post link-building service at the beginning of 2022.
Backstory
About the Client
The client offers a SAAS product in the accounting niche.
Their solution saves accounting companies a lot of time and has been growing mainly through word-of-mouth advertising in the country it was founded – Estonia.
There is no reason the product couldn't be sold to international companies. But because the service itself is quite cheap, and the accounting niche is highly competitive and expensive, the cost of advertising just didn't make financial sense.
Their product only cost $10/user which makes it hard to achieve a positive ROI from ad spending.
For this reason, the founder decided to strategically invest in SEO to hopefully achieve a much higher ROI on their marketing dollars.
Fortunately, this hypothesis has proven to be correct and they are now seeing an increasingly positive return on their investment.
The Challenges
As said above, in addition to the niche being expensive to advertise in with paid ads, it's also highly competitive in regard to SEO.
Many competitors have put hundreds of thousands, if not millions, into content marketing and SEO so it's a real-life David and Goliath situation.
Another challenge was that even though they were doing quite well in their native country on SERPS, they weren't featured on the international search results. This was likely due to the product and website development having been done in Estonian, not English.
Our Plan of Attack
Based on what we saw, we devised the following plan:
Keyword research
Do in-depth keyword research to find top-of-the-funnel content ideas to gain topical relevancy within the niche in the English language.

The site had almost non-existent rankings in the English language, which indicated that Google didn't deem the site to be relevant, nor authoritative in English.

Create well-optimized articles
We wanted to go after low-difficulty keywords that the behemoths weren't targeting. This would give us a foot in the door so to speak, and allow us to build on those entry-level keywords.

Launch link building
We needed to gain authority and Google's respect in English, so we needed to build links from the countries the client wanted to rank, mainly the UK and the US.

At first, we built links to the homepage through two of our go-to link-building services, HARO and guest posts. Once we saw which articles started to climb in rankings and needed a push to reach the first page, we also built links to those adding another link-building strategy – link insertions.

Once authority is achieved, focus our efforts on ranking for the most competitive terms
Once we see that Google is starting to rank the site and we've achieved sufficient topical authority, we will focus on ranking for the most competitive terms, one at a time.

Ranking for these kinds of keywords would be highly profitable for the company. I'm talking about keywords like "best accounting software", but a bit more niche.

Our initial research showed that we need a DR of at least 50 and 30+ links to rank for those terms, but given our success and those terms being very specific to the product, the client wanted us to go after them immediately.

As we now have a good foundation of relevant articles that we can internally link from and our ability to focus all our link-building efforts to go after just one term at a time, it's very likely we'll be able to get into the top 3.

We have achieved this with the exact 4-part strategy for many of our other clients before.

The Results So Far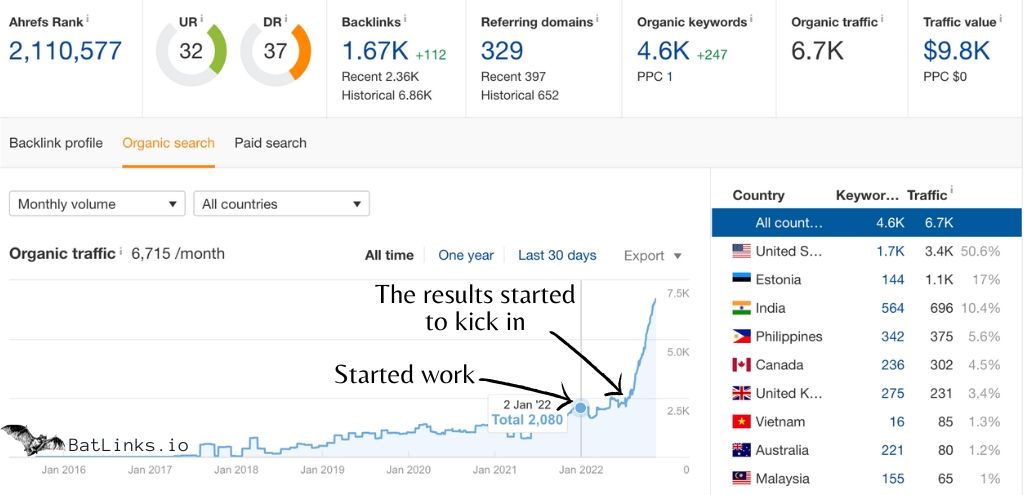 The traffic has only recently started to grow exponentially, so we expect to see a continuous growth curve. However, at the time of writing this, organic traffic has increased from 1,862 sessions in January to 9,390 in October.
That's an increase of 7528 sessions per month.
Initially, most of the traffic came from Estonia, which is where the company was founded and has seen a lot of its early growth. The increase of 7.5K visitors per month came from International visitors, which is exactly what the client wanted to achieve.
Traffic value generated
Traffic value at the start of the campaign was under $1,000. This was mainly because the rankings were based in Estonia, where there's less competition in paid advertising, which serves as the basis for Ahrefs traffic value calculation formula.
Through our work, roughly $15,000 of monthly traffic value has been generated thus far.
As mentioned previously, this will likely continue to grow and at the very least remain at this level for a few years if we were to stop our campaign right now.
This is what the current cumulative link values look like: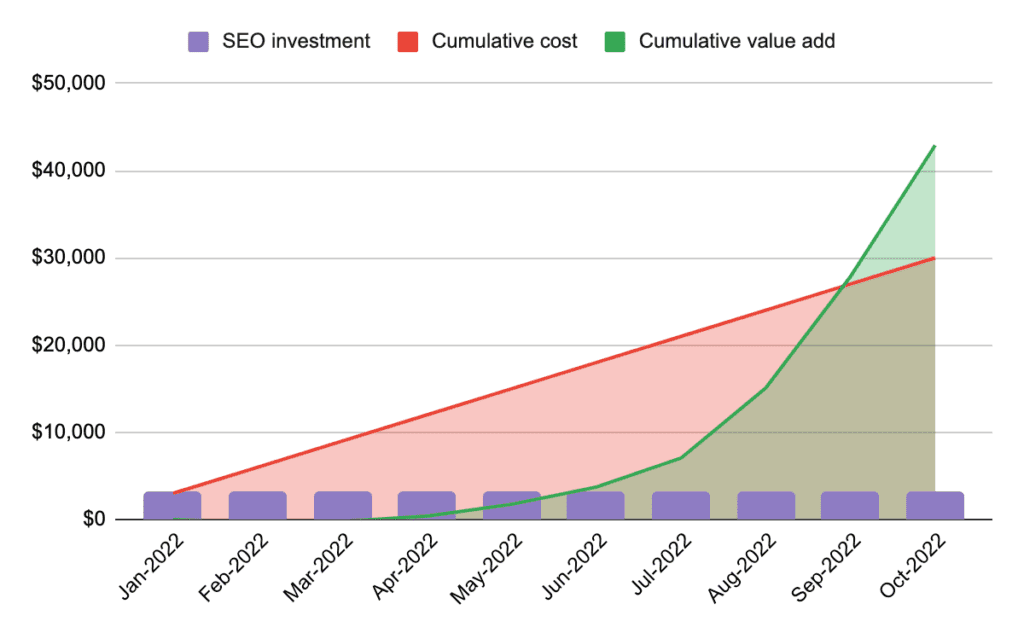 And even if the client halted SEO services right now, the traffic will likely grow for at least the next 6-9 months.
With a very conservative estimate, the traffic should remain steady for the next 6 months and thereafter start declining at 10% per month.
This is how the ROI graph would look like until the same time next year: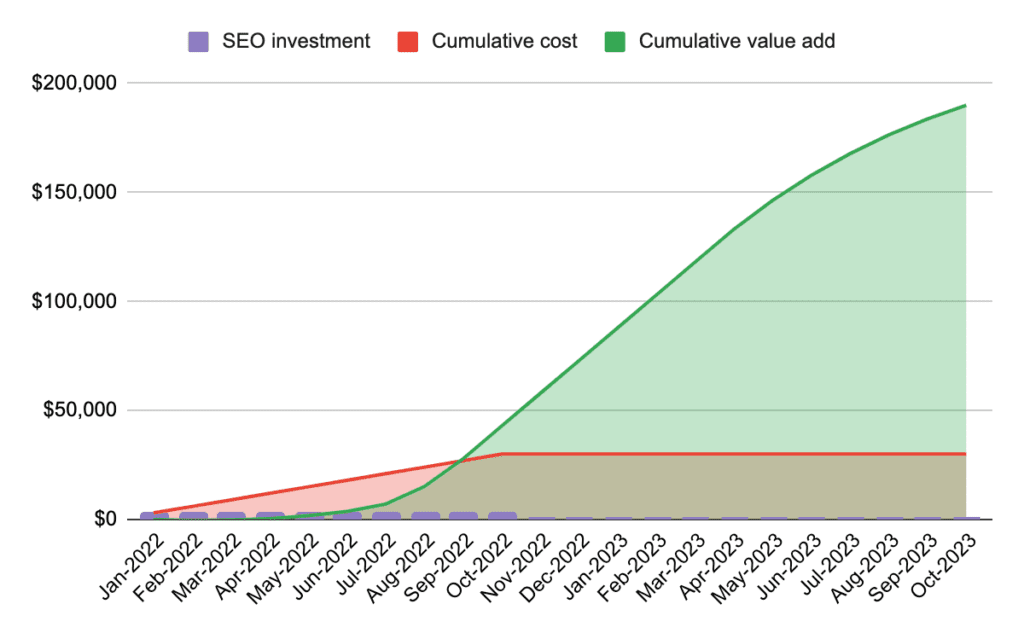 The fat overlap between value added and costs come from the nature of SEO. Once you build the traffic up, it will continue to grow and exist for years into the future without you having to do anything.
Whereas with paid ads, as soon as you stop paying, your traffic will stop immediately.
Future Plans for the Campaign
We will continue using our current link-building and content-creation strategies because they are proving to be fruitful for both parties.
However, as mentioned above, we will start to attack one high-value keyword after another, aggressively. Only once we've achieved a ranking within the top 5, will we proceed to the next target page.
If we don't do this and spread our link-building efforts too thin, we simply won't be able to compete with the Goliaths of the industry.
We will also continue to build links to pages with the highest commercial intent because we want the client to rank for the most profitable keywords within the niche.
This is likely to yield a massive ROI for the client.
—
NB! This is an ongoing case study and we will update the results as the campaign progresses.
PS! If you want us to take a look at your site to assess if we're able to add significant value to you through our services, get in touch.

PPS! As a bonus for reading through the entire case study, we'll offer a free video audit analysis of your website and what we could do for you.