What is an Affiliate Website?
An affiliate site is a website that sends traffic and potential customers to a merchant's website. If that traffic then purchases a product or service, the merchant will pay the affiliate site a small fee.
So by promoting products on another company's behalf, you can earn a percentage of the sales profit.
But in order to do so successfully, you'll need to build a site that ranks well and is able to attract organic traffic that can be redirected.
How Backlinks help your Affiliate site
Quality backlinks have long been an essential part of a solid SEO strategy.
Google picks up on the number of QUALITY backlinks you have connecting to your site and will reward you with a higher search engine ranking because of it.
It's this first-page ranking (SERP) that earns a site more organic traffic. And organic traffic directly impacts sales and profitability.
But one of the challenges a merchant website faces is that its content is focused on selling products or services. And this makes it difficult for them to naturally attract links from other sites.
Affiliate sites help by sending users their way in exchange for a small fee.
So how do you, as an affiliate site, attract precious organic traffic?
The Recipe
Even though backlinks are essential to good SEO, you need the right combination of ingredients to make an affiliate site successful.
If you're going to acquire links, you need relevant high-quality content to link back to.
And content that doesn't have any links won't attract much organic traffic, would it?
Backlinks form one-third of the recipe and keep sites healthy.
But you'll need to add some high-ranking keywords for kick and quality content to appeal to the tastebuds of merchants, and voila…
You have yourself a tasty Affiliate site smoothie that will rise in search engine rankings.
But as with all recipes, adding too much or too little of one ingredient will leave you with a bad taste in your mouth.
In the same way, the incorrect use of keywords, content, and backlinks can negatively impact your website.
So, let's have a closer look at the recipe:
Ingredient #1 – Quality Link Building
One good link is worth more than 20 bad links. We've seen it time and again.
Some people build hundreds of bad links to their site, thinking the more the merrier. But that game plan can easily backfire and wastes valuable time and energy.
Begin by looking for quality links from sites that have a high Domain Rating (DR) score on Ahrefs. Ahrefs is an SEO tool used by website owners and affiliate marketers to rank and improve their chances of ranking in search results.
The higher a site's DR score, the more likely Google will view them as quality sites and rank them higher.
But look beyond their ranking and do some research into their site. You want to make sure that these sites rank for your intended target audience, in other words, make sure they're relevant!
You should look for backlinks that move the needle, so to speak. The kind that brings in organic traffic and ranks you higher on the search engine results page.
Ingredient #2 – Content that is Relevant
Make sure that you have content tailored to the specific niche you're trying to rank for.
Focus your energy on writing good content that will appeal to both your desired affiliates and audience, the people behind the keyboard.
Write articles that are visually pleasing and easy to read. The easier you make it for Google Bots to navigate through your pages without scaring them off, the better.
So keep your content delivery natural.
A good idea is to search for articles that are already out there on the same topic and try to produce something that's better. If you introduce a new concept or more up-to-date content, people will naturally be drawn to it, and other sites will start linking to it.
Source: Pexels
Here are some general guidelines when it comes to content production:
– Write as many words as needed to cover the topic in enough detail to fully answer the question or to help the reader. Often, this would mean that you'd need to write an article that is at least 1,000-2,000 words.
– Paragraphs of no more than 2-4 sentences
– At least 1 picture per every 300 words of content.
– The article should be interesting to read for the end-users, and also actionable.
This way, each piece of article you produce will be of Good Quality and meet your personal standards.
Ingredient #3 – Keywords that Rank
Keywords are words or phrases that tell search engines what the information on your page is about. They also refer to the actual words that people type into their keyboards when performing an online search.
So try to fill your content and articles with keywords in a natural way. If you're not careful, you could over-saturate your articles and this can negatively impact your SERP.
What is Keyword research?
In its most basic sense, keyword research is the process of understanding the language your target customers use when searching for products, services, and content on the internet.
Use a free Keyword generator tool, like this one available from Ahrefs.
I typed the word 'Sneakers' into their generator, and this is what it came up with…
Screenshot taken from Ahrefs
According to Ahrefs, KD (Keyword Difficulty) refers to "an estimation of how hard it is to rank in the top 10 organic search results for a keyword on a 100-point scale"
Volume is "An estimation of the average monthly number of searches for a keyword over the latest known 12 months of data."
As a new page, you'd want to try ranking for easier keywords, such as Dior or Gucci sneakers that have a difficulty rating of 6 or 7. Ahrefs views this as easy as you'll probably need > 10 domains to link to you in order for you to rank for that keyword.
With a score of 61, Nike sneakers would be incredibly hard to rank for, as Ahrefs estimates that you would need anywhere between 37 and 200 domains to link to you in order to rank for it.
Screenshot taken from Ahrefs
Now that you have a better understanding of this three-part recipe, let's have a closer look at one of the main ingredients, namely link building.
5 Core strategies that work well for affiliate website link building: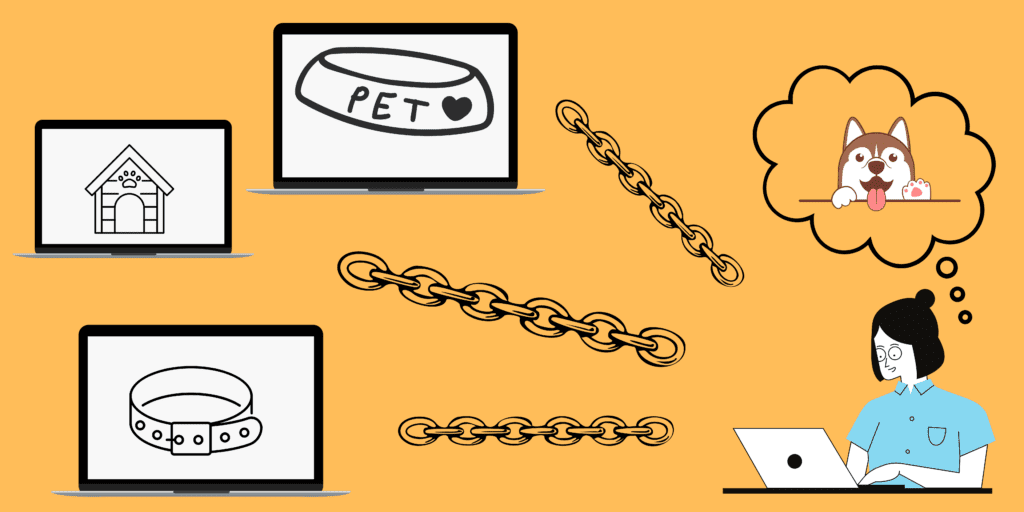 1. Guest Posts
The idea behind guest posting is pretty straightforward.
You create a great piece of content that can be posted on another website. In this content, you are given credit as the writer and given a link back to your site.
This has long been a popular link-building strategy, so as you can imagine, high DA sites are often flooded with requests for guest posts.
This has led them to either stop accepting requests altogether or to start charging a small fee to post your article to their site.
But at the end of the day, it's still a win-win strategy that can be highly effective in acquiring links.
We love using this strategy at Batlinks as we've seen great results on a number of our affiliate websites.
Guest posting is one of the go-to services we offer to our clients.
Besides gaining a link to your site, a guest post allows you to reach out to a larger audience within the same niche and grow your product.
The more people who read your article, the higher the chances of converting link clicks to sales.
When gaining a spot on an authoritative, relevant website, you also boost your own authority. This ups your chances of ranking higher.
The site accepting your guest post gains free content for its site and exposure to a larger audience.
By expanding their affiliate network, they also create an opportunity to convert their prospects into sales.
But more than that, they gain valuable time that they would otherwise have had to spend in writing, editing, and publishing content. This helps them focus on other parts of their business.
Reaching out to the right sites
When you're just starting out and building a name for yourself, you might want to reach out to up-and-coming websites that haven't built a high DR for themselves yet. You may also choose to focus on sites that specifically invite writers to apply to do a guest post.
Websites with a higher DR will be more difficult to convince, as you need them more than they need you. So be patient.
Once you find websites that are willing to accept guest posts, try following these steps to land that all-important guest post on their site:
Study their blog section and choose article topics that are relevant
Write a guest post pitch and send it to the editors or content manager
Once a pitch is accepted, write an article adhering to their guidelines
Remember to link to a relevant article on your own website.
Send your draft if accepted.
Make edits if asked and send the final version to the editor
Made with Canva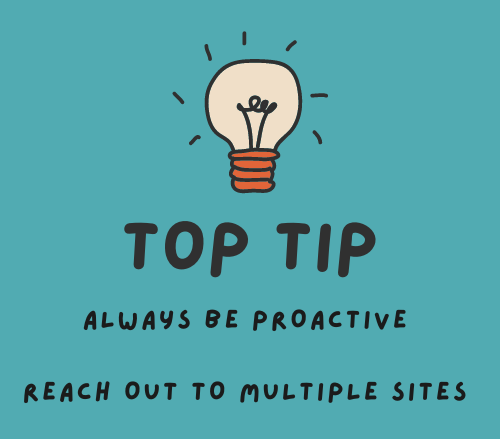 2. Link Insertions
Similar to guest posting or blogging, in the sense that you are asking other sites to link to you.
But the difference is that you're not asking to create content for them. You are asking them to link from an existing piece of content on their site to one of your articles or pages.
At Batlinks we take great satisfaction in gaining these links through a meticulous process that ensures a high ROI. This is also one of the services that we offer to clients.
In order for content to rank well on Google, it needs to have links.
A well-placed link tells Google that the content is relative, up to date and helpful to others on the web.
The benefit of link insertions is that there is no need to go through the content production phase. So, with no need to go back and forth with website owners or 'Webmasters', links can be built quickly and at a relatively low cost.
Website owners also struggle to make money, so the main benefit to them is the financial compensation they receive when embedding a link into existing content.
When done right, it's a win-win situation.
As mentioned earlier, guest posting is one way of link insertion, here's another option…
This involves getting in touch with other high authority websites and, you guessed it, arranging to exchange links with them. As with other SEO strategies, you'll need to do a bit of homework with this.
You need to check for relevance from sites in the same niche as you, then ensure they have a good domain authority behind their name.
The next step would be to find content on their site that is relevant to yours. Perhaps you have a stats post on one of your pages. You could offer them a link from your page in exchange for a link from one of their web pages. It's a win-win situation.
3. HARO
Haro is an acronym that stands for Help A Reporter Out.
It's an awesome way of connecting with reporters and authors of websites directly, without having to reach out by means of e-mail campaigns or outreach programs.
When signed up to HARO, you'll receive three emails daily, Monday – Friday. Each email has a load of queries attached which reporters, editors, and writers have submitted pertaining to a specific niche.
You then have the opportunity to provide an answer to that query and if picked, your comment along with a link to your website will be quoted by the reporter in their article.
Answering HARO queries is one of the most underrated link-building strategies, as the payoffs are potentially huge. You could land high-quality links from well-ranking, authoritative sites like MSN.com (Dr92) and NyPost (DR91)
Because competition is fierce, many people ignore this strategy.
It takes time and patience to gain high-quality links on HARO, but the benefits that these links hold for your website make it worth the effort.
We've had great success in using this method and have thus started offering it to clients who want those high DR links that seem impossible otherwise.
4. Broken Link Building
First, you need to identify pages on websites, within your particular niche, linking to pages that no longer exist or have a technical problem.
Links that are broken will display a 404 error message when clicked on.
Help them understand that replacing the broken link on their page with a link to your content is good for them, as broken links decrease a page's SERP ranking.
So, how do I find the right sites to reach out to?
Find popular sites in your niche that have a large number of links on them.
The more traffic a site gets the better as you want as many people as possible to find your link.
Imagine you have a site in the health niche. If you're looking for sites to reach out to, you could simply type a common phrase into your search engine and see what pops up…
By typing healthy food into my search engine, I found these three pages
Healthline.com – DR92 / 25,765,989 Backlinks
MorelandObgyn.com – DR32 / 11,537 Backlinks
HealthyFood.com DR71 / 403,256 Backlinks
Seeing as #1 has a fantastic DR, and more importantly, a huge amount of backlinks,
I decided to pursue that one.
Copy the site IP address into the Ahrefs site explorer and select Backlinks > Broken
This will bring up a list of pages on their website that are broken but still have a link directing people to them. Pick one of these broken URLs to pursue.
There are 7,087 broken outbound links on healthline.com. For our example, I'll use the first on their list of top 10 Broken Outbound Links.
Copy that broken URL into the Ahref site explorer and see how many referring domains there are to the broken article.
The Ahrefs dashboard will tell you how many referring domains there are on that page, which you could call prospects.
In this example, there are 757 Referring domains, or prospects to this broken site.
Export the list of referring domains.
With the list in hand, you can begin to do checks to make sure that they are relevant to your niche.
As part of this step, I use Hunter.io to find the contact information of the websites.
However, the program isn't always accurate. So take the time to go through the list manually and double-check the information.
The idea of this campaign is to get those sites to replace a dead or broken link with a link to your website.
So you need to create an up-to-date and relevant article that is worthy of that link. Use the latest stats and information to create an appealing article for this outreach campaign.
Use a mass mailing program like GMass to send out these emails in bulk.
This will save time and money when prospecting. But ensure that your mail doesn't come across as spammy otherwise your mail will be returned.
5. Resource Page Link Building
To gain a resource page backlink can be quite tricky, and honestly, requires a bit of luck.
While you want to avoid begging people for links, you could try to simply ask for a link to your site. This can be done without any formal agreement of links to be exchanged or monetary compensation.
You can do this by writing, not one, but many, high-ranking articles that boost your authoritativeness on a subject.
You can then ask people to link to content that answers specific questions.
If your articles add value, other websites should be happy to link to you.
This means that you'll need to do good keyword research and ensure that your pages have a good ranking on Google's SERP.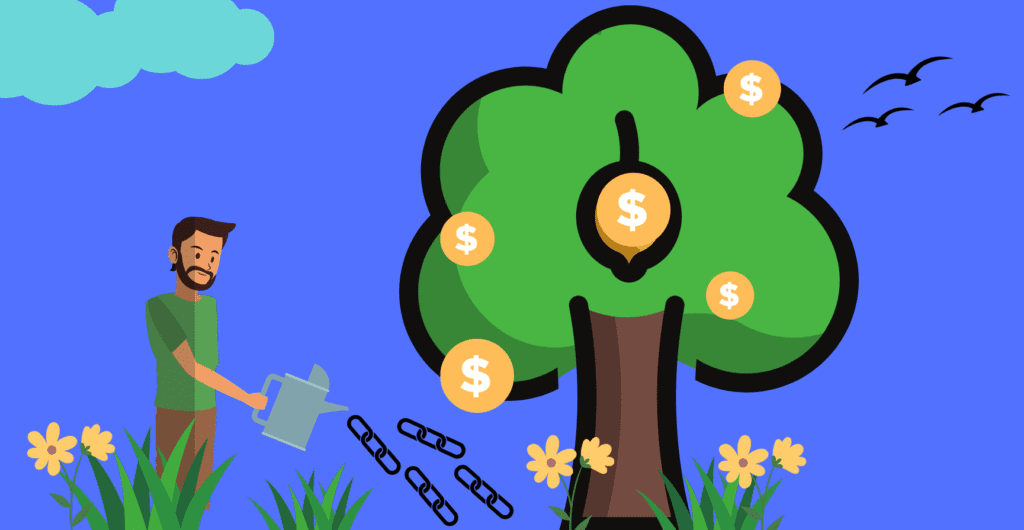 Final word
Affiliate marketing is a great way to earn a passive income. But building an effective affiliate SEO strategy takes a good game plan.
So, before reaching out to possible affiliates and building an affiliate program, keep these key points in mind:
Look for niche-specific websites and reach out to them only. You want to gain links from content in the same genre, so make sure that you look for sites that have a high amount of organic traffic and up-to-date content.
Look for websites that will benefit you in the long run
Gain links that matter. If you're linked to a website that has a bad rap on Google and spammy content, you'll do more damage than good.
So keep in mind that not all backlinks are good links. You want people to link to that will boost the performance of your site, not drag it down.
Do your prep work before reaching out – Create Good Content
You often only have one shot when reaching out to affiliate websites.
First impressions matter. So make sure you know your stuff. You want to write good content that makes it worth it for them to exchange that link with you.
From our experience, adding a personal touch to your outreach emails will yield the best results.
Don't be robotlike or too vague with requests. Affiliate website owners completely understand the concept behind what you're doing.
So be upfront with who you are, and how the prospect you're offering will benefit them.
Reach out to multiple sites
Maximize your chances of success by reaching out to as many relevant websites as possible.
It takes time to produce great content and build the infrastructure for these links. But once they're up and running, you'll be picking the fruits of your labor for a long time to come.